Technical Information of Steel Fiber:
There are four main manufacturing methods for steel fiber used in steel fiber concrete
1. Wire cutting method
Generally, cold drawn steel wires with a small diameter of 0.4-0.8mm are used as raw materials, and the steel wires are cut into short fibers according to the specified length. The tensile strength of steel fiber produced by this method is much higher than that of steel fiber processed by other methods, reaching 1000-2000MPa.
2. Thin plate shearing method
The sheet shearing method is a method of cutting cold-rolled sheet steel into steel fibers.
Before cutting, use a special small slitting machine to cut the thin cold-rolled coils into strip coils. The width of the strip coils is the same as the length of the steel fiber, and then the strip coils are continuously fed into the rotary cutter or ordinary punching machine for cutting. , The axis of the rotary tool and the feed direction of the sheet are perpendicular to each other.
3. Steel ingot milling method
The raw material used is steel fiber made of thick steel plate or steel ingot, which is cut with a rotating flat-edged iron knife. When cutting, the steel fiber will produce very plastic deformation and twist between the shafts, which can increase the bonding force with concrete and other substrates.
Specification of Steel Fiber: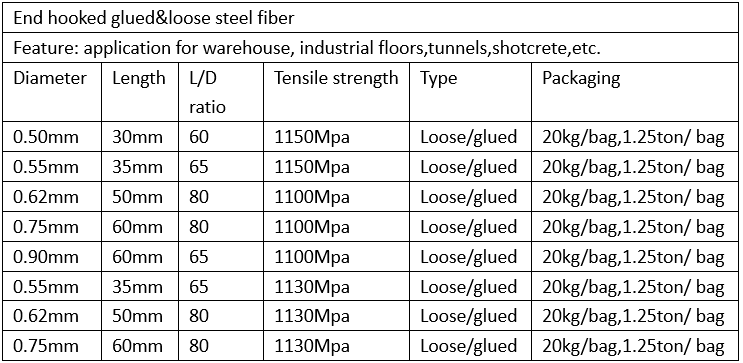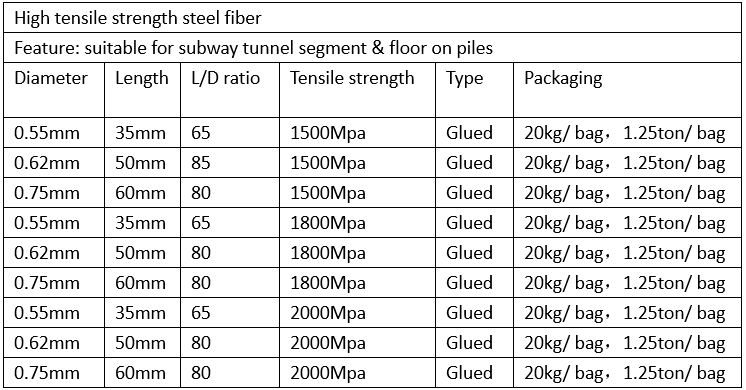 If you are interested in steel fiber, please feel free to let us know your require of color, size and shapes.