Compression spring

Compression springs are our most common spring type,
they have very wide range of applications and could be found in almost
all mechanical products, such as automobile, machinery, automotive
equipment, valves, electric switches and so on.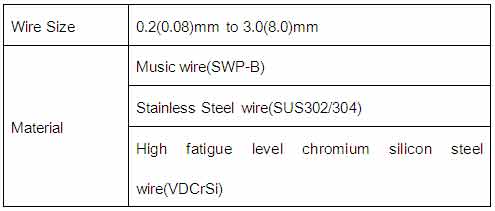 Extension Spring
Extension springs are widely used in machineries, automatic devices, power
transmission, door locks, etc. The ends are normally different types of
end loops and hooks, there are also a wide range of
other mechanical attachment possibilities, such as coiled in and screwed in
attachments. For example, half hooks, German loops, English loops,
extended hooks, side hooks, side loops, screw plugs and screw shackles.