Founded in 2000, Shanghai Metal Corporation is a professional enameled winding wire manufacturer. We mainly offer enameled copper wire, enameled
aluminum wire, enameled copper clad aluminum wire, also specialize in self bonding enameled wire, silver plated copper wire,
stranded wire and silk covered wire. Our products are sold to Malaysia, India, Indonesia, Cuba,Russia, Japan, USA, HK, Pakistan,
Germany and so on. Have earn good reputation on this line. More than 30 countries and own over 250 regular customers.
Specifications Of Enameled Aluminum Wire: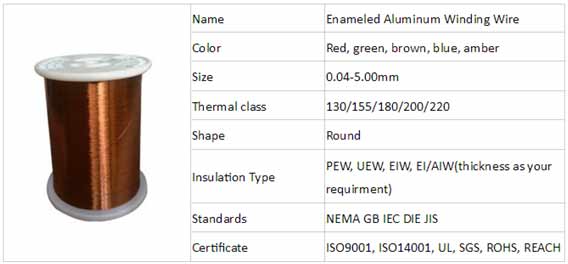 Performance Features Of Enameled Aluminum Wires:
Lighter than copper wire, low cost.
Excellent heat shock, adherence and flexibility.
Resistance to solvent but not poor electrical properties and resistance to hydrolysis.
Excellent electricity performance.

Main Applications Of Enameled Aluminum Wires:
Transformer, motor, generator, electrical equipment etc.

Features of Round Enameled Aluminum Wire:
1) Excellent bending property
2) High flexibility of the enamel
3) Good resistance to abrasion
4) High mechanical property
5) Higher thermal property
6) Good resistance to refrigerant and freon
7) Suitable for windings that are subjected to constantly high temperature and mechanical stress
8) Good chemical resistance
9) Outstanding mechanical and chemical property

Facility of Round Enameled Aluminum Wire :
SMC has taken the lead in importing the Round Enameled Aluminum Wire production and

inspection equipment of the advanced international standards .
The annual output of the Round Enameled Aluminum Wire and other Enameled wire over 7,000 tons